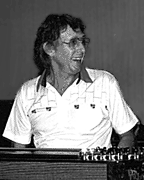 Too long has Stu's name failed to be in print. His association with dozens of country music idols is remarkable in its breadth. Stu began steeling at age 11. Like so many others, he was a student of the Oahu music system. He took to the instrument so quickly that he won first place in a music concert at age 13, getting a newer lap steel! From then until this day, the steel has been a driving force in his life. "I was an Air Force brat," he recalls, "accompanying Dad around the world."
Once of age, Stu continued traveling, finding work wherever his steel was needed. In the process he became a sought-after session and concert sideman, performing with such notables as Thumbs Carlisle, Tex Ritter, Kitty Wells, George Hamilton IV, Jim & Jessie, Connie Smith, Marie Osmond, as well as one year with Ray Price. There were many other notables with whom he performed, but he was drawn to Nashville and the lucrative session work there. He recorded on the albums of many stars, plus the recording of "jingles" and movie soundtracks (C.W. Coop, W.W. & The Dixie Dance Kings, and Nashville). Television followed, and Stu made many appearances on the Porter Wagoner & Dolly Parton shows, as well as recording on many of their albums.
With this abbreviated background of credits, there should be no doubt that Stu is an accomplished player, long overdue for the recognition he earned the right way--with talent, determination, and hard work! I'll admit, for years I never knew of Stu or was aware that he was the one I enjoyed hearing on so many albums and movie soundtracks. I often wondered who was playing on Louis Armstrong's country album, but never found out until now! With his own three albums, he "comes to life" as the remarkable player he has been all along, with too few of us being aware of his existence. Stu chose to emphasize gospel music in his instrumental recordings here. Not only is his playing impressive, but the way he makes every string on his steel stand out, is truly amazing.
-Tom Bradshaw
[All of Stu's albums share billing with the excellent lead guitarist, Wayne Smith.]