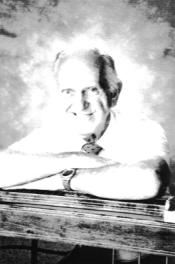 Leonard T. Zinn is one of America's legends of the steel guitar. He has devoted over 65 years of his life to playing, arranging, teaching and promoting the steel guitar. He's been an inspiration to many of today's top steel players. He has played steel for many country music stars including Ernest Tubb, tex Ritter, Roy Rogers, Faron Young, Patsy Cline, Randy Travis, and many years with Columbia recording artists, The 101 Ranch Boys.
Leonard's love for the steel guitar and Hawaiian music started when he first heard the Hawaiian steel guitar played by native Hawaiians Dick McIntire, Sam Koki, Eddie Bush, Andy Iona and Sol Hoopii. He was happy in later years to have the honor of knowing and playing shows with some of these great legends of Hawaiian music. Leonard is also credited as one of the early pioneers to bring the steel guitar into country music in the 1940's.
Leonard T. Zinn still travels extensively, playing throughout the USA as well as other countries. He conducts steel guitar workshop/seminars and is always eager to help anyone who sincerely wants to play the steel guitar. "L.T." is humbly proud of his association with the top Hawaiian and country music steel guitarists throughout the world, and always gives thanks and praise to his Lord and Savior for giving him these accomplishments and for this talent.
His Steel Guitar Hall of Fame plaque reads:
BEGINNING WITH THE SMOOTH SOUND OF HAWAIIAN MUSIC, HE BECAME A PIONEER COUNTRY-WESTERN STEEL GUITARIST. AS A MEMBER OF THE "101 RANCH BOYS", HE PERFORMED ON THE ABC RADIO NETWORK, BACKING SCORES OF THE BIGGEST STARS OF HIS ERA. RECORDING ARTIST, SESSION PLAYER, INSTRUCTOR, MUSIC ARRANGER AND PUBLISHER, HIS CAREER HAS SPANNED SEVEN DECADES. AN INSPIRATION AND TEACHER TO THREE GENERATIONS OF BUDDING PLAYERS
BORN: DECEMBER 27, 1924 HANOVER, PENNSYLVANIA
INDUCTED: 2005