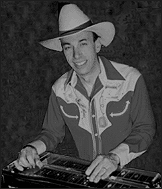 Joe took up steel in 1970, after falling in love with the sounds he heard in country rock bands such as The Byrds, The Flying Burrito Brothers, and The New Riders of the Purple Sage. He bought an old Fender 400 and learned a weird tuning that he abandoned a year later when he got a double-neck ZB. Within a few years he was making a living playing local "sit-down" gigs.
In the late '70s Joe joined the Billy C. Farlow Band (Billy C. had been the lead singer with Commander Cody). They toured the West Coast extensively and even made it to the Armadillo Club, in Austin. Back in the Bay Area in the early "Urban Cowboy" '80s, Joe played to packed houses with the Texas Chainsaw Band. He recently played the Montreaux Jazz Festival in Switzerland with Atlantic label artist Jim Lauderdale.
Joe has recorded with many artists, including Laurie Lewis, David Byrne, and the Usual Suspects (a nine-album project of eclectic Bay Area music and musicians). Joe has backed Taj Mahal, Maria Muldaur, Peter Rowan, Norton Buffalo, as well as played on a recent Mike Bloomfield session.
Lloyd Green was Joe's earliest influence, with Lloyd's Hit Sounds album remaining a favorite. Joe has combined his years of playing country with his rock & roll roots. He plays the steel the way we like to hear it, with feeling and expression, but says, "There's no point in my recording "Mansion On The Hill" when twenty guys have already done it."
-Tom Bradshaw