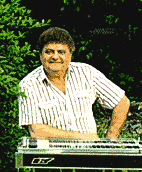 Jimmy got an early start into music from his dad and uncle. They performed as a duet on a Columbus, Ohio radio station (WHKC). Home though, was Obetz Station, Ohio, a tiny town just outside Columbus. Jimmy is able to recall being taught to play a few chords on a mandolin at age 4. "I was just a cute kid, singing Jesus Loves Me on Dad's radio show," Jimmy explains. He also remembers hearing the steel sounds of Jerry Byrd about 3 years later, immediately informing his dad "That's what I want to play." By the time he was 10 "I was dueling Jerry, note for note," he proudly states. High school hadn't ended before he had backed touring artists such as Buck Owens and Johnny Paycheck who would stop in his area to perform. By age 15, Jimmy was working on the WWVA's Jamboree in Wheeling, West Virginia. Vocalist, Jimmy Walker, was also in Wheeling and took a liking to the boy, using him in his band.
Jimmy got married along about then and "my wife wanted me to have a regular job, or else," he remembers. "I went to work in a meat packing plant in Columbus. One day I was going to work and heard Emmons playing "Buddy's Boogie" on the radio. That tune and Buddy's sound just overwhelmed me. I stopped that car dead in the road and was overcome by it all. Traffic backed up and people were wanting to kill me. Right then I knew I had to get back into playing. I did, and that was the end of my first marriage!"
In 1957, Jimmy accompanied Wilma Leigh and Stony Cooper to Nashville, where they recorded for Hickory Records. He stayed with them for 6 years. However, his talent was quickly recognized by others, as he got work with Cowboy Copas, George Jones, Hank Snow, and for two years with Faron Young. Ferlin Husky enticed him to join his band for a time, then he got on the Johnny Wright/Kitty Wells show. That lasted 7 years. But all the while he was recording heavily. He was used by Dolly Parton, Slim Whitman, Chet Atkins, and so many other recording greats that space prevents a complete listing of his session work. Over the years, Jimmy collaborated on several fine instructional courses that are also listed herein. He was subsequently asked by Scotty to do an album, Ton Of Steel, while working for Kitty Wells. A major label picked it up. "At that time I was really busy, but I still took on more; too much more in fact," Jimmy relates.
"I had always been fascinated by the mechanics of pedal steels," Jimmy says. So along with his good friend, John Hughey, they began producing JCH pedal steels in 1981. But, performing and sessions constantly took them away from building, so much so that they stopped in 1993. But that building urge caught up with Jimmy again, and he recently teamed with Russell Parks and is again back building (CP pedal steels). Touring still keeps Jimmy busy. He is currently with Radney Foster, a fine vocalist and performer.
I could talk about Jimmy's achievements forever. One thing really deserves mention though. I think Jimmy is a natural-born comedian. He's the kind of guy you want to hang out with, since unusual things happen when he becomes part of the mix. He's like a magnet (he'd say "maggot") to other happy, humorous people who also "hang" with him. Things get crazy and hilarity prevails. If it were possible, I'd live right next to Jimmy. Life would be one big party and I'd have more good times than any person could imagine, as well as being able to listen to some fabulous steel guitar playing!
Critiquing Jimmy's Albums
Jimmy's brand of rapid single-string picking and banjo rolls were what first grabbed everyone's attention when he "crashed" Nashville in the '50s. He keeps it up to this day, making it a dominant quality of his musical performances. With his recording buddy, Russ Hicks, they calculate and arrange their albums with precision, as well as share billing on two. There is remarkable precision, organization, and an uncanny sophistication in their "chicken pickin'" arrangements. Jimmy is a harsh task-master, demanding flawless execution on everything he plays. On his individual albums it is apparent that he also loves some form of jazz (perhaps just Jimmy's!), and strives to thread it into his music, while maintaining a dominant country soundóhey, he will never forget his roots! He also likes a big sound, making certain his recording efforts have sufficient instruments to accompany him, and his sidemen are the best musicians he can assemble. Thus, nothing is spared when Jimmy records his music, and that effort puts him and his music among the best.